No Agenda
Newsletter

Two
Revelations
and more

No Agenda

Sunday

Show
The crazy news piles up.
Dear Producer,
There's a lot to talk about including the latest maneuvers in the scripted battleagainst ISIS, an awkward new book that sexually insults both the Russians and the Germans, as well as the developing saga targeting news anchor Brian Williams. Plus more!Click here and continue to support No Agenda.
Here is the "wow" from the email subject line. Really? 33 Sex Secrets?What does the code mean in this instance? (Found on newsstand by producer Robert Gold).
Donations were up last Sunday after the previous three flops which had few executive producers and fewer overall donations than normal.

Adam and I thank you immensely for your continued support and plea with those of you who have not donated for a while( (or never donated at all) to contribute to

this Sunday's

show byclicking here. Any amount helps.

Thinking about becoming an insta-Knight? Do it by clicking here.
I guarantee a minimum of two major revelations on the

Sunday

Show, maybe more. Help us continue to keep the No Agenda Show alive as the Best Podcast in the Universe.
PS The is one of the last two shows where you can get a double Assoc.Executive.producer credit for a Valentines Day Call Out.
If you want real analysis based on research and digging deeper into a story, No Agenda is your show. To keep it alive please support No Agenda any way you can. There are excellent ideas on the support page here.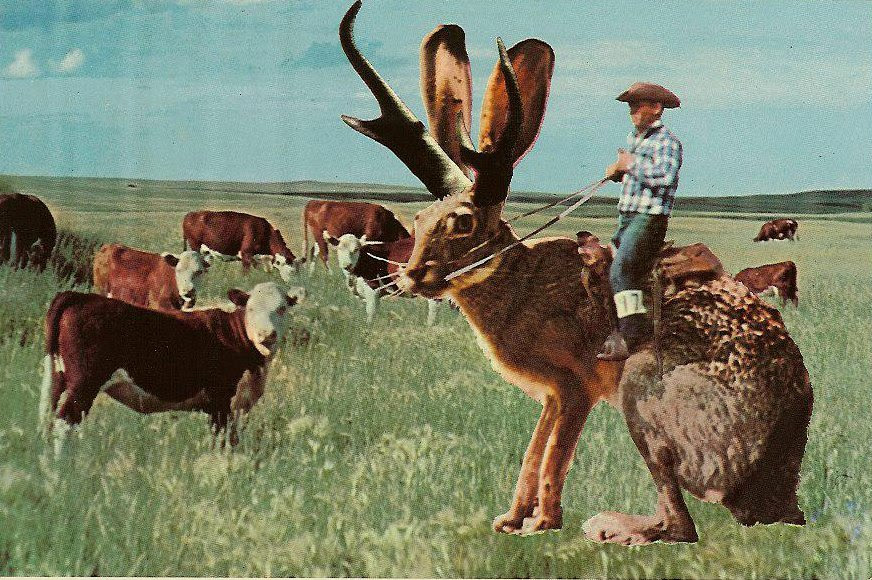 Many of the No Agenda fans from Europe, Canada, Russia, Asia, the middle East and South America have never seen or heard of the Jackalope. Here is a rare example of the giant Jackalope being ridden by a cowboy. This image was on a postcard so you know it is true.
Copyright © 2015 No Agenda Show, All rights reserved.
Thanks for being part of the No Agenda family!

Our mailing address is: